Imperative Training's Guide to First Aid in Schools Part 1 - First Aid Training for Teachers
As we all know, children can be clumsy and get into all sorts of scrapes on a daily basis. With this in mind, children spend up to 6 hours of their time in the care of teachers at school, and as we've covered previously; the law is changing this month with regards to how nurseries can operate.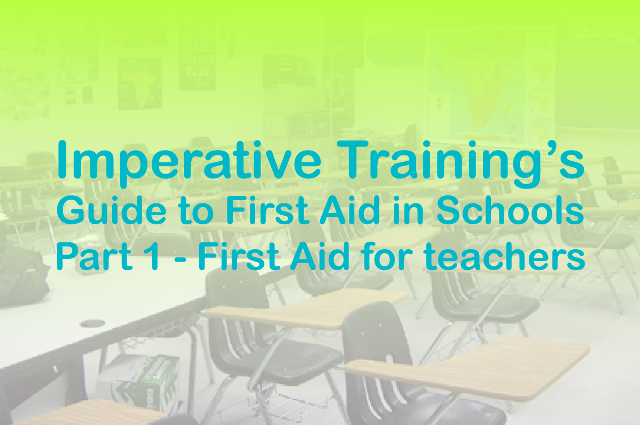 So should all school teachers be trained in Paediatric First Aid as well? The answer, of course, is yes!
Each year, 270 children die on school premises from sudden cardiac arrest – with first aid trained teachers and staff, we could see a dramatic improvement on these results. By having the knowledge to apply life-saving care in a medical emergency, treatment can be administered whilst awaiting assistance from an ambulance, promoting recovery and increasing chances of survival.
Whether it be knowing how to deal with a choking child, or how to treat cuts, stings, strains & sprains; First Aid is something we could do with taking a course in, but especially those of us who work with children.
Our Paediatric First Aid course is a Level 3 Award in Paediatric First Aid (QCF), a nationally accredited qualification which delivers the highest standard of first aid, meaning your staff will be qualified to the highest standards
The course is 2 days long (12 hours) and covers everything a teacher will need in order to care for children, including:
Choking & Breathing Problems.
Wounds & Bleeding.
CPR & the Recovery Position.
Burns & Scalds.
The effects of Heat & Cold.
Bones, Muscle & Joint injuries.
Poisoning, Bites & Stings.
Chronic Medical Conditions & Sudden Illness.
This course is also now available in a market-leading Blended Learning option, which means 6 of the 12 hours will be spent gaining knowledge online before spending the remainder learning the practical aspects of the training in a classroom environment.
So what's your opinion on Paediatric First Aid training for schools? Should this be as mandatory as it is for nurseries? Join in the conversation with us on Twitter @ImpTraining.
If you're looking for more info on first aid, our handy First Aid app allows you to take our tips with you on the go – without the need for wifi/data/signal. Plus, soon you'll be able to download our Paediatric First Aid app – meaning you'll have more specific tips to meet your needs!
In the meantime, check out our First Aid Tips page and infograms.