9 reasons why you should download the imperative training app
Date: Tuesday, 17 May 2016. -

Blog, First Aid

There's an app for everything nowadays but perhaps you want to extend your repertoire by learning first aid with a handy, pocket-sized guide. Here are 9 reasons why we believe downloading the imperative training app will be one of the best decisions you ever make:

1. Refresh your knowledge

We encourage all of our learners to refresh their knowledge by downloading the imperative training app. We understand that life can be pretty hectic but it's always worth reading up when you have a spare 5 minutes to make sure that you remember all of the invaluable skills you learnt on the course.

 

2. Educate yourself

If you have limited knowledge of an aspect of first aid such as helping an infant who is choking or providing first aid for someone experiencing a seizure, you can educate yourself with the app preparing yourself for whatever life throws at you.

 

3. Be prepared for whatever life throws at you

Accidents can happen anytime, anywhere and you may find yourself in a right predicament if a casualty is solely relying on you to come to their aid. Under intense pressure, you can easily forget important steps that could mean the difference between life and death. With just a few taps of your phone, you will gain access to the information you need to give the casualty the correct treatment, helping them onto the road to recovery.

 

4. Remote location? No problem

Fancy yourself as a bit of an adventurer? When you're off the beaten track it can be tricky to find a signal and taking a tumble can complicate things even further. Whether you find yourself trekking up Snowdon or canoeing down the Amazon River you can access our first aid tips offline allowing you to patch yourself up in the remotest of locations.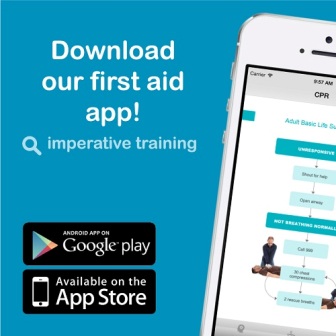 5. You're never without handy first aid tips
We always send our learners away with a glossy manual for reference, but sometimes they end up in the in-between – you know the mystic land where all of the stray socks and hair clips go.  It happens, but you needn't worry because thanks to our first aid app you will always have access to the materials you used during your training sessions, allowing you to refresh your memory on the go.
6. Get expert advice
You can feel rest assured that our app will provide you with all of the information you need to tackle an array of medical conditions and injuries. In fact, our first aid app has incorporated content from our first aid manuals written by experts in the field.
7. Act fast in an emergency
Rather than spending a good while flicking through a first aid manual or scrolling the internet desperately trying to find first aid advice, you can simply access our first aid tips at the click of a button. 
The imperative training app is broken down into sections that make it quick and easy to find what you're looking for, there's even a 999 button that dials the emergency services for you.
8. Stock up your first aid kit
The imperative training app also gives you direct access to the imperative supplies site allowing you to stock up for first aid kit, equipping your workplace to deal with a combination of medical conditions and injuries.
9.  It's free!!
Need we say more? All you have to do now is search for imperative training in the Play Store or App Store and click download. It could be one of the best decisions you ever make.