UK HSE Update Part 1 – Inclusion of AED Training, Tourniquets & Haemostatic Dressings
Awareness of defibrillators has increased dramatically over the last 5 years in the UK and it's an intuitive recommendation by the HSE to include training on defibrillators into first aid at work courses.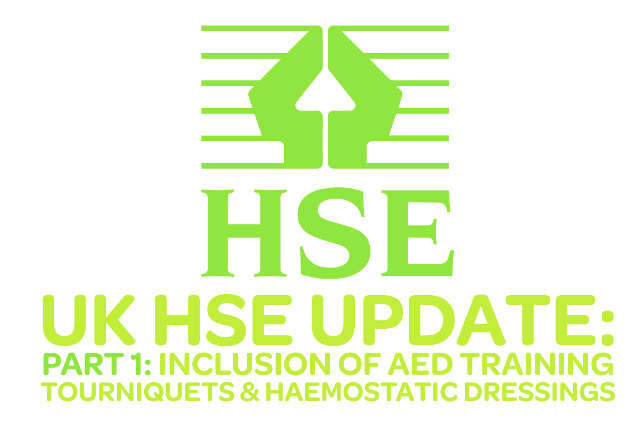 As the contact hours for training will not be increasing, the inclusion of defibrillators on training courses will be a brief familiarisation on how to use an AED only. This will give learners the chance to get to grips with the device, and learn the basic functionality should they ever need to use it.
However, as the defibrillator familiarisation portion of the EFAW and FAW course will only cover the basics on a device, this means that the defibrillator featured in the training may not be the same unit you have on your site. Therefore this does not replace the TQUK Level 2 Award in Cardiopulmonary Resuscitation and Automated Defibrillation (QCF) qualification that we also provide.
If you have an AED on site, we strongly recommend that this course is completed by learners to allow them to experience realistic training scenarios using a training device that is the same model as your clinical unit. This will ensure that, should your workplace suffer a casualty, you & your staff will be fully prepared to deal with the emergency.
Following extensive use and research, evidence suggests that tourniquets & haemostatic dressings are effective, save lives and have a low rate of complications following application. The view of the HSE is that the inclusion of these items is based on your First Aid Needs Assessment, for example; a small office is unlikely to find that catastrophic bleeding is a major risk to employees; therefore they wouldn't necessarily need this new equipment. However, somewhere that operates heavy machinery and is at high risk of injuries that could cause catastrophic bleeding, i.e. forestry, agriculture etc., may wish to consider these options.
We want to ensure these changes are implemented in the timeframe provided by HSE, prioritising a smooth transition for our clients and partners. Below we outline our proposed timeline for these changes.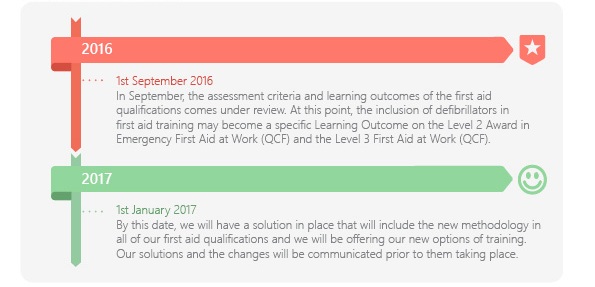 For more information on these changes, check out the HSE Bulletin Update, or give our friendly team a call on 0845 071 0820.
For Part 2 of our HSE Update, click here.