The ultimate guide to using a defibrillator
Only 20% of people experiencing a cardiac arrest are in a shockable rhythm when the emergency services arrive at the scene. Without immediate treatment, a whopping 90 – 95% of people will die, which is why it's so important to promote the use of public access defibrillators.
But when you have limited or no experiencing using a defibrillator, where do you start? At imperative training, it's our mission to save lives and getting people up to speed on how to use defibrillators is top of our priorities. So first things first....
Carry out a self-check
It's only natural to want to keep your defibrillator switched off to conserve battery, but a little part of you will want to constantly reboot the device to check if it's fully operational. This is the worst thing you can do, switching the device on and off drains the battery and you may find that your defibrillator has lost power when you need it most.
When you setup the device for the first time it will perform a self-check for you. Depending on the model of AED you go for, the defibrillator will often tell you that the device is "okay" meaning that no faults have been detected and it's ready to go. 
In order for the defibrillator to perform regular checks, you must keep it switched on at all times. Keep an eye out for telltale signs that the device has become faulty such as a high pitched beeping sound or a spanner symbol appearing. Each device has its own unique features so be sure to read the manual to become fully aware of general maintenance.
Keep the defib within arm's reach
Store the defibrillator in a wall cabinet and increase its visibility with wall signs, that way if a cardiac event occurs all members of staff will instantly know the location of the equipment and will be able to retrieve it quickly and easily.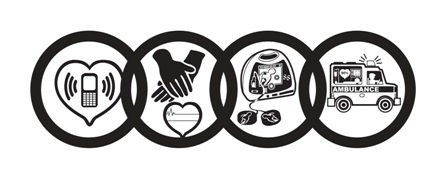 The defibrillation process
Many people feel intimidated by the idea of using a defibrillator to save someone's life but it's actually a lot simpler to use than you think:
Step One
Switch on the defibrillator. Some devices are switched on with a button and others automatically switch on once the lid on the case has been lifted.
Step Two
Following the voice prompts, attach the electrode pads to the patient's chest. For this step you must remove any clothing and jewellery surrounding the chest, you may also have to shave the patient's chest to ensure that the electrode pad has full contact with their skin. 
Step Three
The defibrillator will analyze the patient for a shockable heart rhythm once this has been detected you will be advised to stand clear if the device is fully automatic or to stand clear and press the flashing shock button to administer the lifesaving shock if the device is semi-automatic.
Step Four
Unfortunately, the shock to the patient's chest doesn't always restore the natural rhythm of their heart first time, so you may be instructed to carry out rounds of CPR before the defibrillator analyses the patient's heart again and carries out further shocks. 
Sign up for a bespoke training package tailored towards your device
Every AED is different which is why we offer bespoke training to get you up to speed on the key features of your model. This will guarantee that you and your employees are familiar with all aspects of the equipment so that the defibrillator can be used with ease in a critical emergency. 
To register your interest in
AED and CPR training
you can contact our customer service team for their expert advice on 0845 071 0820.