Purchasing the perfect AED: your guide to unique selling points and key features
Still searching for that perfect workplace defibrillator? Struggling to find the right device for you? No problem! Below, we've shared an exclusive guide compiling supportive evidence from an independent study to pinpoint the factors you must consider before selecting a defibrillator for your working environment. 
Sound like a dream come true? We thought so, read on to discover everything you need to know to help you select the perfect defibrillator.
Voice Prompts
One of the most helpful features of a defibrillator is the voice prompts which talk the user through each step of the defibrillation process. The defibrillator gives clear instructions about electrode pad placement, when to begin CPR, the analysis of the patient and notifies the user when the shock will be administered. 
Early defibrillation is a key aspect on the chain of survival as for every minute defibrillation is delayed a victim of cardiac arrest loses 7-10% of their survival chances. For this reason, it is vital that the voice prompts are clear and straight forward to help the user carry out the procedure as quickly as possible. 
In the recent internal study carried out by Centric First Aid, they evaluated the performance of the
Defibtech Lifeline View
and found that the device had an average time to shock of just 40.6 seconds, indicating that first-time users found the device easy to use.
CPR Feedback
As an extension of the voice prompts, some devices offer CPR Feedback to assist first aiders with the depth and rate of their compressions. Defibrillators with a CPR Feedback feature often use vocal cues such as "push harder" and "good compressions" to let first aiders know if they need to improve their technique, giving the patient the most effective treatment possible.
In the Centric First Aid study, they established that the
Defibtech Lifeline View
also allowed users to perform good quality CPR with an impressive score of 100%. The
Heartsine 500P
was a very close contender with 90% of people performing good quality CPR. 
Visual Prompts
The combination of pictograms and flashing LED lights on the body of an AED can be reassuring for first aiders in a stressful emergency situation. These visual prompts illustrate the steps of the defibrillation process at real-time ensuring that the first aider knows exactly what they should be doing. 
Good examples of AED's with bold graphics that illustrate the step-by-step process are the
Heartsine Samaritan range
and Zoll Defibrillators. Another notable feature of the
Zoll defibrillator range
is the fluorescent green body that will easily stand out in an emergency, saving valuable time.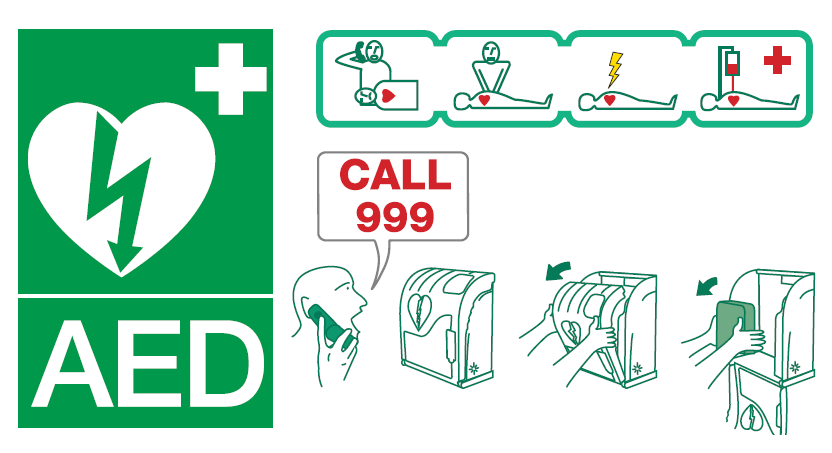 IP Rating
If you intend to store your defibrillator in a cabinet outdoors you may want to consider opting for a defibrillator with a high IP rating. An IP rating determines how protected your defibrillator will be when it's exposed to the elements. 
An example of a high IP rating would be 64, the first number shows the level of protection the device has against dust ingress while the second number indicates how protected the device will be against exposure to splashes of water. 
If your defibrillator is intended for office use, where it is likely to be stored in a cabinet in preparation for an emergency a high IP rating does not necessarily need to be a high priority in your decision-making process.
Drop Test
When you're rushing about in an emergency, it's likely that you may drop the defib. In a highly stressful situation, it's more than likely that such accidents happen, and so you want to feel rest assured that your device will be fully operable and ready to perform its crucial role should such an incident occur.  
During the drop tests completed by Centric First Aid for their internal study, defibrillators were dropped from chest height onto concrete to determine whether they could withstand the impact of the fall. Two devices that particularly stood out during this test where the
Heartsine Samaritan
and the
Defibtech Lifeline
that both continued to function after the test.
So there you have it, an exclusive guide to some of the vital factors you should consider when choosing a life-saving defibrillator for your working environment. Now that you're up to speed, you will be able to browse our sister site
imperative supplies
like a pro. Pay close attention to the 'Ease of Use' and 'Technical Information' sections to determine the right product for you. 
Are you eager to learn more about defibrillators? We offer
specialised training
to get you up to speed on how these devices operate, providing you with the confidence to save lives.