Spot the difference: is your workplace fully equipped for first aid?
You may have noticed a theme developing with our most recent blog posts. Yep, you guessed it employee and customer safety!  
Statistics from the Health and Safety Executive have shown that a whopping 611,000 workers were injured at work in the year 2014/15 and 142 people died as a result of injuries obtained in the workplace. Our goal is to educate readers about quick and effective methods to remove risks and drastically reduce this figure.
To reinforce our message that safety is paramount we have designed a series of images for you to spot the difference between a bog-standard office environment and a safe haven with everything you need to tackle medical emergencies and to manage health and safety.
Can you spot all 10 differences?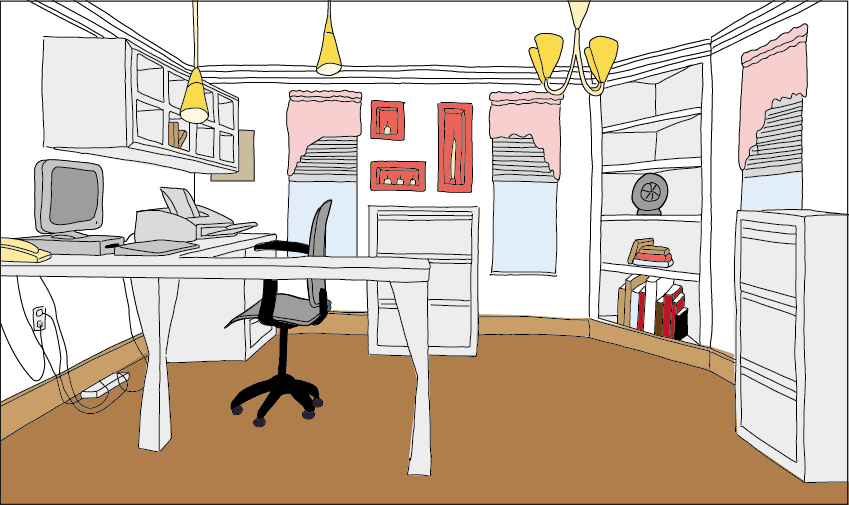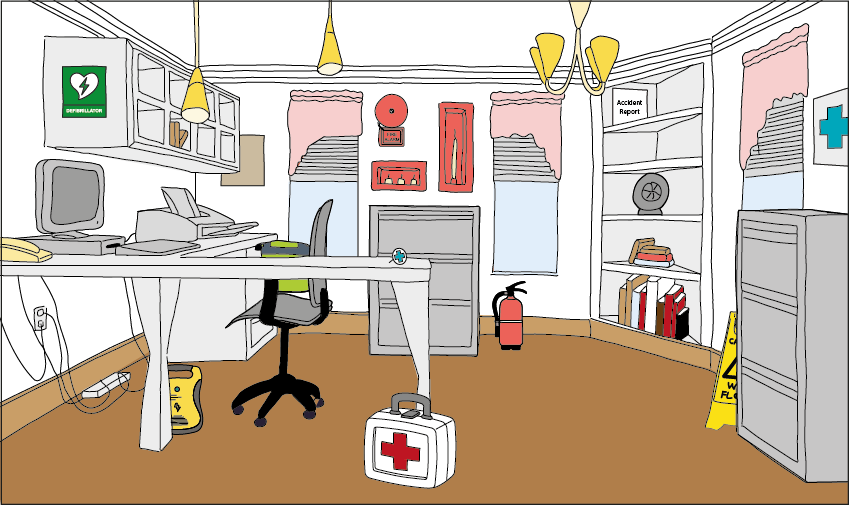 Spoiler alert! Keep scrolling to find out the answers to the spot the difference.
Just a little further
Bingo!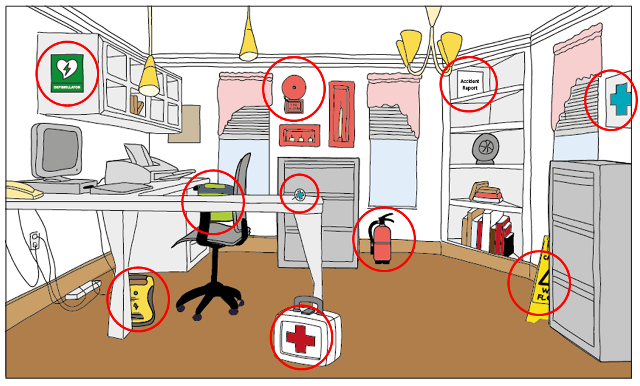 Wall Sign
A
wall sign
will increase the visibility of your defibrillator making sure that everyone knows where to find the lifesaving device in an emergency.
Defibrillator
Did you know that there are approximately 60,000 Out of Hospital Cardiac Arrests per year in the UK? Keep a
defibrillator
accessible to all members of staff for rapid treatment of sudden cardiac arrest.  
High-Vis Jacket
Now you see that cheeky spot of yellow hiding away on the arm of the chair? That's a high-visibility jacket that should be used by
fire marshals
during the evacuation process so that all members of staff can locate the meeting point for registration with ease.
First Aid Badge
A first aid badge pinned to the uniform of staff members
trained in first aid
will make their presence known to members of the public in times of need. 
First Aid Kit
Are you
fully equipped
to treat injuries? From a small paper cut to a third-degree burn, you never know what you could be faced with. 
Fire Alarm
Detecting a fire at the earliest possible moment could save lives. Guarantee that your alarm is fully operable with weekly tests. 
Fire Extinguisher
With a qualification in fire safety, some members of staff will know how to safely and effectively put out a fire at the source, protecting members of staff and preventing damages to the premises. 
Accident Report Book
It's important to record the details of an accident so that medical professionals can decipher the cause and to identify risks preventing similar instances from occurring. 
Wet Floor Sign
A wet floor sign is just one example of health and safety measures you can put in place prevent injuries. For more helpful hints be sure to read our
Retailer's Guide to Customer Safety
! 
Posters
Posters with first aid tips and step-by-step guides will prompt first aiders and teach employees with limited knowledge new skills that will help prepare them for a critical emergency.