Christmas Dinner – A Food Safety Guide
Date: Thursday, 17 December 2015. -

Blog, Food

Christmas is a busy time of year for many dining establishments, with guests flocking through the door to enjoy the holiday season with friends and family.

As well as making sure your festive meal is a taste sensation that your customers will love, it's important to ensure that all your food is prepared and cooked properly so that it's safe to eat.

A busy kitchen is no excuse for poor hygiene and safety practices, so make sure your kitchen staff are well aware of these guidelines before you start.

Cooking your turkey

As the centrepiece of the meal, it's important your turkey is cooked to perfection. No one wants to eat a dry, overcooked turkey, but on the other hand, you certainly don't want to risk your bird reaching diners undercooked.

They days of washing poultry before cooking are long gone. Not only will it not really help in terms of killing bacteria, you may also end up doing more harm than good as now-contaminated water splashes off the turkey and lands on other surfaces.

Your turkey can go straight in the roasting tin, or if you do need to do any prep work on it beforehand, make sure a red chopping board is used. The board should be removed and cleaned promptly, not left lying around the kitchen, as this would risk cross contamination.

We're quite sure that the professional chefs in your kitchen know full well how to cook a turkey. However, it can be easy to miss things in the heat of a bustling Christmas service, so it's worth refreshing a few memories and ensuring key food safety steps are not missed by you or your staff.

All poultry should reach at least 165°C at its centre during cooking. While you might think it's fairly evident whether or not turkey is cooked from looking at the meat, use a meat thermometer to check this is the case (remembering to wipe the probe clean afterwards). Cooking turkey properly can prevent bacteria such as salmonella and campylobacter from infecting diners, so it's important not to take shortcuts or unnecessary risks here.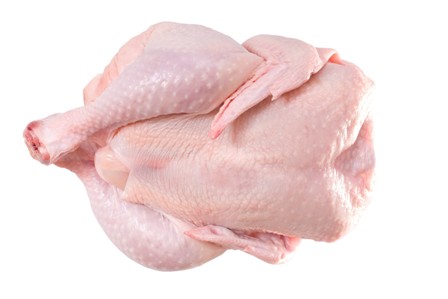 Preparing your vegetables
The key thing to remember when preparing vegetables is to make sure they're properly washed. Soil and dirt on food can give rise to a number of dangerous bacteria; botulism being among the most serious.
Staff should remember to wash their hands before starting, particularly if they've been handling turkey or any other raw meat. Vegetables should also be peeled and chopped using a brown chopping board, to avoid cross-contamination.
Storing and reusing leftovers
The usual procedures for storing unused food still apply at Christmas. Items should be put in the appropriate containers, correctly labelled and stored on shelves above any raw meat/fish to ensure they can be consumed safely at a later date. Again, at this busy time of year it can be easy to neglect the necessary paperwork, but it remains as important as ever to get this right. You don't want to start the New Year by putting your customers at risk!
When you come to reheat this food, remember that it must reach a core temperature of 75°C before it is safe to serve. Once it's out of the microwave, it helps to let the food stand for a couple of minutes so that the heat can reach the whole dish but be careful not to let it drop back below 63°C as this is temperature where bacteria begin to thrive again.
Any leftovers that you don't wish to save should be disposed of in the appropriate bins at the end of service. It's likely that bins will be collected less regularly than normal over the festive period, so proper waste management is vital to avoid things looking unsightly and to keep pests away from your premises.
Give your customers a Merry Christmas
By ensuring food hygiene processes are strictly followed during the Christmas period, you can ensure your customers enjoy their Christmas meal and experience a day that's memorable for all the right reasons.
If you think your team could use some food hygiene training next year, take a look at the courses we offer and give us a call to see what we could do for your business.