What e-Learning can do for you
So you've heard that we have launched our new e-Learning site and we'll bet that you're eager to learn more about what this could mean for you? Let's fill you in on how e-Learning can help you to broaden your knowledge, acquire new skills and even step up the career ladder:
The Plus Points of e-Learning
 Learners can work at a pace to suit them, ensuring that they absorb all of the      information they need to pass the assessment
With no need to step out of the office online training reduces the amount of time spent away from your daily duties 
With more course content to sink your teeth into, many of the e-Learning training materials veer away from bog standard content allowing you to hone your skills on specialised areas such as learning how to control medicines or building your awareness of the guidelines for selling alcohol. 
Demonstrating to senior members of staff that you're keen to learn more and develop in your role may give you the recognition you deserve with a promotion.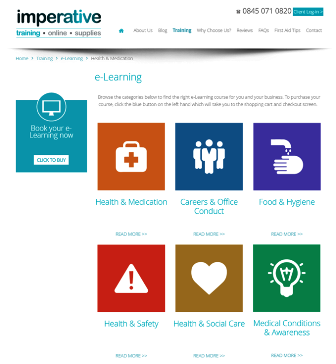 A Closer Look at e-Learning with imperative training
You're sure to impress your customers after getting to grips with food safety, hygiene, and nutrition. Learn all there is to know about maintaining high standards in the food sector with a course in Food & Hygiene. 
One of the most popular courses we have available online is the
TQUK Level 2 Award in Food Safety in Catering (QCF)
this course if perfect for someone that has to handle or serve food as part of their day-to-day job role. Once this course has been completed learners will have a fresh perspective on the positive impact that maintaining high levels of cleanliness for food safety purposes can have. 
Interested in learning about first aid and controlling medicines? Or perhaps you're looking to broaden your knowledge of health care practices such as Venipuncture? Well, then this is the category for you. 
Work stress and injuries result in over 27.3 million sick days a year in the UK, make this a thing of the past with the help of a course in Health & Safety. 
Online courses in this section will teach employees about office etiquette, help managers to fulfil their duties and support businesses by highlighting important guidelines for selling alcohol. 
Discover everything there is to know about the roles and responsibilities of care workers with a course from the Health & Social Care category. 
Gaining an understanding of different medical conditions and a person's needs surrounding these conditions will give learners the know-how to provide appropriate care.  Sign up for an online course in Medical Conditions & Awareness to broaden your knowledge of mental health, disabilities and health conditions such as dementia and legionnaires.
E-Learning 101
 So you've decided that e-Learning is for you but you don't know where to start? 
Here's a little step-by-step guide to help you along the way: 
Step 2:
once you have selected the perfect course for your needs, scroll up to the top of the category and click the blue button on the left-hand side to visit the
booking page
Step 3: add your chosen course to the shopping cart in order to make your purchase
Step 4: grab a drink and get comfortable, now all that's left to do is get stuck in